The fully converged Voice & Data "Comms-in-a-Box" Solution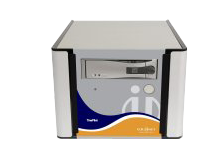 TinaPilot is the latest addition to the Equiinet family of products and combines Voice and Data communication solutions packaged up in a simple 'Comms-in-a-Box' solution. It significantly reduces cost, has no capital outlay and is offered on a straightforward monthly subscription basis. TinaPilot is a single box product that delivers high quality telephony services that include interactive voice responses and low cost calls. It combines these features with data services that include internet access and backup facilities. Not only this huge array of services is delivered cost effectively in one box but it is securely set up with certified firewalls, Threat Prevention and VPN access. Multiple Internet connections are supported, along with 3/4G fail-over.
Monthly subscription fee with no initial outlay includes:
PBX – Fully functional VoIP with QoS support
Backup Facility – Local & remote backup of PCs and servers
Security – Certified Firewall, Threat Prevention and VPN access
Internet Access Control – URL Filtering for instant site blocking for groups or individuals
Peace of Mind – a fully supported system from a single supplier
Significant cost savings – low call rates & free inter-site calls
TinaPilot has been specifically developed for SME businesses that are looking for all the latest communication technologies packaged in a simple product that is easy to understand and use. Companies with multi sites will particularly benefit from this new technology as they can instantly and securely share data and resources.
Equiinet develops flexible technologies that offer tailored solutions to their clients. TinaPilot is a fully supported system and all Equiinet resellers receive ongoing technical training and marketing support so that they are specialists in supplying and servicing TinaPilot.
Data Services with TinaPilot:
Advanced firewall for gateway and multi LAN support giving increased access controls and added WAN security
Anti-Virus, Spam and Malware detection options
VPN support for secure access through the firewall to PCs, servers and resources on the local network
Dynamic and configurable web caching greatly improves response times and enables web pages to be served at LAN speeds
Local backup of servers and PCs – fully automated and encrypted
Backups compressed and mirrored to a secure off-site location
Can integrate local Active Directory with URL filtering for seamless user-based web access filtering and logging
On-board diagnostics of product and networks with alert functions
Multiple logs ranging from diagnostics and bandwidth usage to Internet access
Telephony Services with TinaPilot:
Full integration with existing PBX systems and handsets
Utilises existing LAN infrastructure – no additional cabling required
Interactive Voice Response (IVR), easily setup for even the smallest organisation, to route incoming telephone calls via keypad
Phone numbers that follow the individual
Message and call recording
Call blacklisting to automatically reject nuisance callers
Low cost national and International calls
Pick-and-Mix from a menu of easily configured voice and telephony features and functions
Full message type interoperability – i.e. voicemail to email
Full integration with existing firewalls, servers, email and other data equipment
Virtual Private Network (VPN) technology can be utilised to provide extra security for inter-site voice traffic
Multi WAN support including 3/4G fail-over options